You can configure your donation page, virtual module, leaderboards, and buttons all in the same place-- the settings menu.
To get to the settings panel:
Click Setup in the left-hand menu
Click Settings in the top menu
Use the left navigation in the Settings tab to switch between Virtual Module, Donation Page, Buttons, and Leaderboards.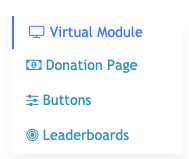 If you're configuring more than one section, make sure to click save to preserve your settings before moving on to the next section.
For more information on setting up each section see these articles: